4 December, 2018
Classic Sufganiyot – Jewish Doughnuts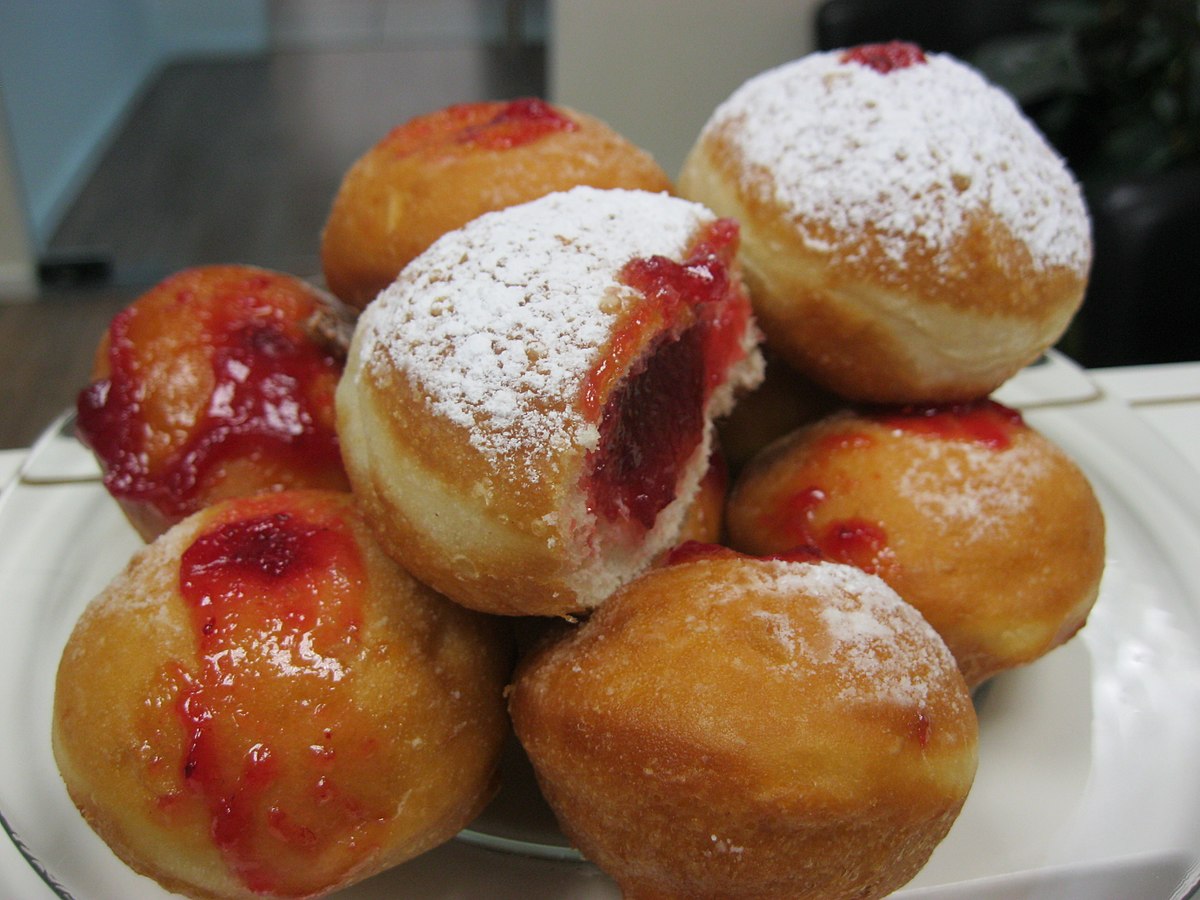 Posted in :
Dessert
on
by :
Mike
Tags:
bread
,
doughnuts
I needed to find a good recipe for a recent Hanukkah  celebration.
I modified the one from https://www.joyofkosher.com/recipes/classic-sufganiyot-jelly-filled-doughnuts/.
Regular milk can be substituted for the coconut milk.
Classic Sufganiyot - Jewish Doughnuts
Classic Dish for Jewish Cooking
Prep Time
3
hours
50
minutes
Servings
12
large doughnuts
Ingredients
Dough:
1¼

cups

coconut milk

heated to 90°F

1

0.75 ounce package yeast

1

cup

all-purpose flour

2

egg yolks

1

whole egg

⅓

cup

extra virgin olive oil

2

teaspoons

vanilla extract

¼

cup

sugar

1

teaspoon

kosher salt

3

cups

all-purpose flour plus more rolling out the doughnuts

2

quarts

extra virgin olive oil or canola oil
Filling & Topping:
1

cup

favorite jelly loaded into a pastry bag fitted with a round tip

Confectioner's sugar
Instructions
Dough:
Line 2 baking sheets with parchment paper and lightly dust the sheets with flour. Line 2 additional baking sheets with paper towels.

In the bowl of a standing mixer or in a large bowl, stir together warm milk, yeast, and 1 cup flour. Cover and set aside for 30 minutes. With a dough hook fitted to the mixer, and the motor on LOW, add eggs, evoo, vanilla extract, sugar, salt, and remaining flour. Alternatively, you can mix in ingredients by hand.

Knead by mixer or by hand until it's smooth and elastic. If making doughnuts the same day, place dough in a lightly greased bowl and let rise for 1 to 2 hours until doubled in size. Or, lightly oil dough, place in a resealable bag, and store in the refrigerator for up to 1 day.

When ready to make the doughnuts, lightly flour your work surface and roll dough to ¼-inch thick. Cut dough into desired size doughnut with cookie or doughnut cutters. For a filled doughnut, do not cut out a center. If using the make ahead dough method, let dough come to room temperature before rolling and cutting.

Place cut dough on prepared baking sheet lined with parchment paper and flour. Allow doughnuts to rise at room temperature for 1 hour.

Pour 2 quarts of oil in a large heavy bottom pot or Dutch oven fitted with a deep fry thermometer and place on medium-high heat. Once oil reaches 360°F on the deep fry thermometer, place several doughnuts in oil and fry 2 minutes per side. Use chopsticks to gently flip the doughnuts over and fry for 1 to 2 minutes on the other side. Transfer fried doughnuts to paper towel lined sheets.
Filling & Topping:
Once the doughnuts have cooled a bit, poke a hole either in the side or on top and fill with jelly, Chocolate Pastry Cream or Lemon Pastry Cream. Sprinkle with powdered sugar or dip in Luscious Vanilla Bean Glaze or Bittersweet Chocolate Glaze.