30 May, 2022
Pavlova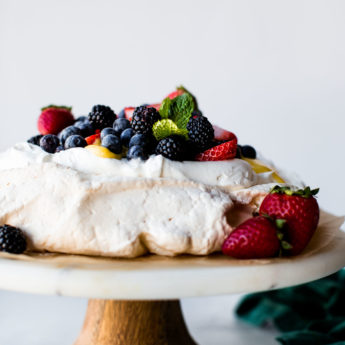 Posted in :
Dessert
on
by :
Mike
This makes a great dessert at any time. Its also a great use of egg whites, especially if you are making my Béarnaise Sauce.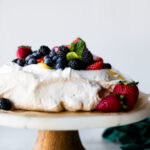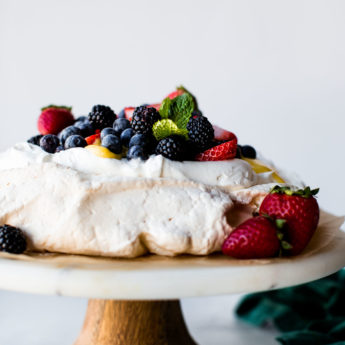 Pavlova
Pavlova is crisp on the edges, chewy on top, and marshmallow soft and creamy in the centers. Pile high with lemon curd, whipped cream, and fresh fruit to make a naturally delicious gluten free dessert!
Cook Time
1
hour
30
minutes
Total Time
2
hours
50
minutes
Ingredients
4

large egg whites

use the yolks for lemon curd!*

1

cup

200g superfine sugar*

1

teaspoon

pure vanilla extract

1/2

teaspoon

cream of tartar*

1

teaspoon

cornstarch

Homemade whipped cream

fresh fruit, strawberry topping, lemon curd, or any desired topping (see post for suggestions)
Instructions
Preheat the oven to 350°F (177°C). Line a large baking sheet with parchment paper or a silicone baking mat. (Preliminary note: you will quickly reduce the oven to 200°F (93°C) in step 4.)

With a handheld mixer or a stand mixer fitted with a whisk attachment, beat the egg whites on medium-high speed until soft peaks form, about 5 minutes. Add the sugar in 2 additions, beating for 30 seconds between. Once all of the sugar has been added, turn the mixer up to high speed and continue beating until glossy stiff peaks form, about 2 minutes. The peaks should be stiff enough that you can hold the whisk upright and the peaks won't move. Add the vanilla extract and beat for 1 more minute. The peaks should still be very stiff. If not, keep on mixing on high speed. Using a rubber spatula, fold in the cream of tartar and cornstarch.

Spread the pavlova mixture into an 8-9-inch circle (see note for mini size). You can make decorative peaks with the back of a large spoon if desired. Make sure the edges are relatively tall and there is a nice dip in the center.

Place pavlova in the oven. As soon as you close the oven door, reduce heat to 200°F (93°C). The pavlova will stay in the oven as it cools down to 200°F (93°C). Bake until the pavlova is firm and dry, about 90 minutes total. Rotate the baking sheet if you notice some spots browning. Try to limit how many times you open the oven as the cool air will interrupt the baking.

Turn the oven off and let the pavlova cool inside the oven. Once the pavlova is cool, you can store it covered tightly at room temperature for up to 2 days. Or serve right away.

Once cool, top the pavlova with whipped cream and assorted toppings. Slice and serve.
Recipe Notes
Egg Whites: (1) Room temperature egg whites whip faster than cold egg whites. And (2) room temperature egg whites whip into a greater volume than cold egg whites. So make sure your egg whites are at room temperature before beginning.
Sugar: Superfine sugar dissolves easier into egg whites. To avoid tasting sugar granules, pulse 1 cup granulated sugar a few times in a food processor. You now have superfine sugar to use in the recipe.
Acid: You can use 1/2 teaspoon of cream of tartar or 1 teaspoon of white vinegar, apple cider vinegar, or lemon juice.
Mini Pavlovas: Divide pavlova mixture up into individual portions instead of spreading into one large 8-9-inch circle. In the photos, 
Bake time depends on size, see step 4 for what to look for. If making 6 mini pavlovas like I did, bake for 35-40 minutes at 200°F (93°C). Start them in a 350°F