7 July, 2023
Potato Knish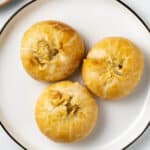 Posted in :
appetizer
on
by :
Mike
Tags:
knish
,
potato
There are times I absolutely just need a potato knish. They go great with sandwiches, make great appetizers, and generally are awesome. They can be hard to find made well, so this recipe lets you make them and freeze them in smaller batches that you can defrost and bake in smaller amounts.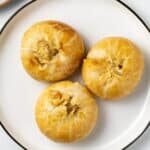 Potato Knish
This is a classic potato knish. This one has worked for me. It does make too much filling.
Total Time
2
hours
35
minutes
Ingredients
Dough
2 1/2

cups

all-purpose flour

or more as needed, spooned and leveled

1

teaspoon

kosher salt

1

teaspoon

baking powder

1

large egg

beaten

1

teaspoon

white vinegar

1/4

cup

canola oil

1/4

cup

schmaltz

rendered chicken fat OR bacon grease (see note)

1/2

cup

warm water
Filling
2 1/2

pounds

Yukon gold potatoes

peeled and quartered (about 6 medium/large)

1

tablespoon

kosher salt

1/2

cup

sour cream

1

cup

shredded sharp white cheddar cheese

salt and pepper

to taste
Onions
FOR THE ONIONS

1/4

cup

butter

sliced

3

cups

diced yellow onion

2

tablespoons

schmaltz

1 1/2

teaspoons

kosher salt
Instructions
MAKE THE DOUGH

Whisk flour, salt, and baking powder together in a bowl. Make a well in the center. Add beaten egg, vinegar, canola oil, schmaltz, and warm water. Mix by hand until dough pulls together. Turn dough out onto a lightly floured surface and knead until soft, smooth, and elastic. Wrap in plastic wrap and set it aside while you make the filling (or place in the fridge for up to 3 days.)

MAKE THE MASHED POTATOES

Place the potatoes in a large pot with 1 tablespoon of kosher salt (not table salt) and enough cold water to cover the potatoes by 1-inch. Bring to a boil, then reduce heat to a gentle simmer until the potatoes are just fork tender, about 10 minutes. Drain the potatoes in a colander, then transfer to a large mixing bowl. Add in the sour cream, shredded cheese, and a bit of salt and pepper to taste, and mash (but leaving some texture, since you'll mash again with the onion mixture. You don't want them gummy.)

SAUTE THE ONIONS

Melt butter in a skillet over medium heat. Add onion, schmaltz, and kosher salt; cook and stir until onions are soft and golden brown, about 10 minutes. Transfer mixture to the bowl with the warmed mashed potatoes. Season with a touch more salt and pepper. Mash until combined and let cool to room temperature.

ASSEMBLE THE KNISH

Preheat the oven to 375 degrees F. Line two baking sheets with silicone mats or parchment paper.

Divide dough in half; flatten one half into a rectangle on a lightly floured surface. Roll out into a larger rectangle about 1/8-inch thick, pulling the corners as needed.

Place half of the filling over one long end, about 3 inches away from the edges. Beat egg with water and brush over the opposite end and a little on the sides. Stretch the dough to cover the filling, then roll up toward the egg-washed side. Fold the last 3 or 4 inches over the top, then press in the seam to seal roll over so seam-side is on the bottom. Trim off excess dough from the ends.

Using a bench scraper, mark (but do not cut) dough into 8 equal pieces. Flour the side of your hand and press into the marks. Rub back and forth against the counter to separate each piece. Position each piece with one cut end facing down and the other facing up. Squish down the top and tuck everything into the center to form a round knish.

Repeat with remaining dough and filling.

Brush bottoms with olive oil and place on the prepared baking sheets. Brush leftover egg wash on top.

BAKE

Bake in the preheated oven until lightly golden-brown, about 40 minutes. Let cool until just warm or room-temperature.

Serve with your favorite mustard, horseradish, or sauerkraut.
Recipe Notes
Schmaltz is rendered chicken fat and has so much flavor. You can usually find a jar of it near the oils. If not, use bacon grease!
Temperature of filling before assembly. The potato filling should be room temperature or slightly warm before assembly the knishes. If it's hot, it will melt the dough.