18 September, 2016
Pork Chinese Dumplings – Peking Ravioli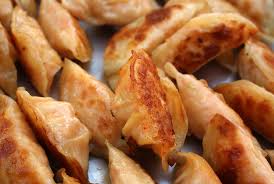 Posted in :
Kid Friendly
on
by :
Mike
Its been a little while since I got new recipe up and posted.  However, this one is suddenly one of the kids favorites.  After paying $7 for 6 Peking Ravioli at the local Chinese restaurants I figured I could make them just as easily.  What follows is my recipie for the dumplings.  I haven't tried making the wrappers from scratch yet because its just so easy to buy the pre-packaged ones.
To go with this I often use the Sesame-Soy Dipping Sauce which I will post separately.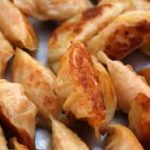 Pork Chinese Dumplings - Peking Ravioli
Ingredients
1

lb

Ground Pork

4

tsp

minced fresh ginger

1

cup

minced fresh cabbage

2

tsp

Fresh Minced Garlic

4

Green Onions

White and light green parts only - minced

4

Tbsp

Soy Soa

2

Egg Whites

Kosher Salt

To Taste

1

package

Wonton Wrappers

40 ct.

1

small bowl

cold water
Instructions
I buy fresh minced ginger and garlic but if you haven't bought them that way, mince your ginger and garlic and put in a mixing bowl.

Shred cabbage and mince in a food processor

Mix pork, ginger, cabbage, garlic, green onion, egg whites. Mix with your hand. You should get a pretty smooth mixture without too much liquid. You want to add the soy sauce slowly so you don't get too much liquid. Add Soy Sauce and then salt to taste.

A good way to get the mixture spiced right is to take a pinch, put it on a papertowel and into the microwave for 40 seconds. The meat will cook and you can try it. Don't be afraid to add salt to season.

Take a single wrapper, put about 3/4 Tbsp of mixture in the middle of the the wrapper. Then dip a brush or finger in the cold water and water the edges of the wrapper. Fold in half and seal in the center. Make 3 pinches on either side creating the folds you see in the pictures. Put on a pan. Continue until you are out of filling.

You can cook immediately (see below) or freeze individually and cook later.

To Cook, put in in a steamer with cabbage leaf liners for 1-2 minutes until soft. Then fry about 30 seconds on each side in a frying pan.