17 May, 2016
Hollandaise Sauce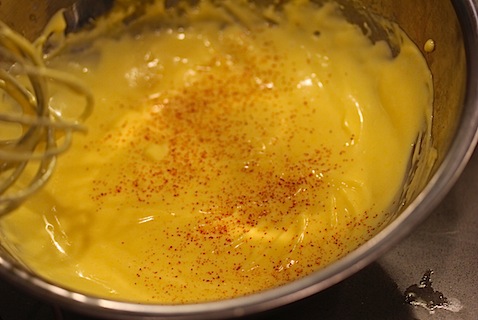 Posted in :
Breakfast
,
Kid Friendly
on
by :
Mike
I mentioned this recipe in my Eggs Benedict recipe although I have also used it with steak.  I learned to make this sauce from WeAreNotMartha. I am borrowing their recipe with my modifications and directions.
The trick to this sauce is to constantly be whisking and watching the temperature.  You absolutely need a double boiler to make this work.  Doesn't have to be a fancy double boiler but direct heat won't work.
Hollandaise Sauce
Hollandaise sauce is another one of those brunch staples that you hear scary things about. It's easier just to buy that little packet at the grocery store, right? No! It's actually not difficult to make hollandaise at all. You just can't be afraid of a little (OK, a lot) butter. But when have we ever been afraid of a little (a lot) butter? We used Julia Child's recipe and thought it was pretty perfect.
Ingredients
3

egg yolks

Hand separated works fine

1

T

Water

1

T

Lemon Juice

Fresh squeezed is best, but bottled works

1.5

sticks

butter

pinch

Salt

pinch

white pepper

Black works but changes the look of the sauce
Instructions
Separate egg yolks place in a metal bowl or top of double boiler

Add lemon juice and water

Whisk until smooth

Get your double boiler going, once the water is boiling bring the temperature down. If you don't, the eggs will cook which we don't want.

Get your butter soft. Microware works but you want something that is just think enough to maintain structure and be cut into pieces but soft enough you can stir it in. I cut mine into about 6-8 pieces per stick.

Place the top half of the double boiler on and start whisking. Get everything on the sides and bottom. Don't let the eggs cook. Take the top off the heat if you see the eggs start to cook. Feel free to move on and off.

You should see the entire volume froth, increase in volume and thicken. When it is solid enough that the whisk lets you see the bottom of the bowl for a second before returning, take off the heat.

Add a chunk or two of butter and continue to whisk. You can add more butter as the complete emulsion forms. You want to keep adding butter until it becomes creamy and smooth and becomes a pale yellow. This is a taste thing and it takes a while to find the right level for you. You might use all of the butter or you might not, but it takes about 1.5 sticks for me to get it where I like it. Don't be afraid to go back to heat if becomes to solid.

Add salt and pepper to taste. Add a little more lemon juice for taste.
Recipe Notes
You want to keep the sauce warm.  Sometimes I have the heat off on the double boiler and will rest it on the still hot water to keep things warm.