23 May, 2016
Thai Peanut Stir Fry (Chicken, Beef, Shrimp, Tofu)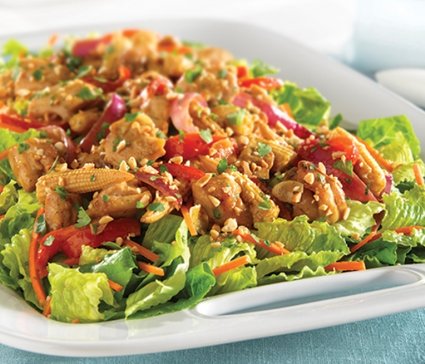 Posted in :
Not Food
on
by :
mikefood
A good Thai peanut stir fry sauce is one of those things that goes well with almost any protein.  I personally like to use Tofu and Beef which I will in the recipe below but it works with any set of proteins or any set of vegetables.   This is adopted from a number of recipe's on the Web but this is the version that I use most successfully.  It can be served over white rice, cauliflower rice, brown rice or chopped lettuce.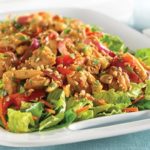 Thai Peanut Stir Fry (Chicken, Beef, Shrimp, Tofu)
Ingredients
Sauce
1

clove

garlic

3-4

inch

Fresh Ginger Root

about 12-15 slices of sliced prepared ginger

1/2

cup

Peanut Butter

creamy

2

Tbsp

soy sauce

1

Tbsp

Fresh Lime Juice

If you have it.

1

tsp

light brown sugar

1/4

tsp

Red Pepper Flakes

2/3

cup

Water

Will add to get to texture
Stir Fry
2-3

pounds

Shrimp, Chicken, Beef or Tofu

If using Tofu see special instructions below

4-5

servings

Stir Fry Vegatbles

Create a mix of peppers, onions, broccoli, etc.

2-3

Tbsp

Asian sesame oil
Instructions
Sauce
To either a blender or chopper, drop ginger and garlic clove into a blender and blend until finely chopped.

Add peanut butter, soy sauce, lime juice, brown sugar, red pepper flakes, and 1/3 cup water and blend, adding more water by tablespoonfuls if needed to thin, until smooth.
Tofu
Begin by draining tofu 1.5 hours before you want your meal ready. If your block of tofu is larger than 12 ounces, trim it down. You don't need a full pound for this recipe (see notes).

Roll tofu in an absorbent towel several times and then place something heavy on top to press. I use a pot on top of a cutting board and sometimes add something to the pot to add more weight. Do this for 15 minutes.

Preheat oven to 400 degrees F (204 C) and cube tofu. Place on a parchment-lined baking sheet and arrange in a single layer. Bake for 25 minutes to dry/firm the tofu. Once baked, remove from oven and let cool.
Proteins
Marinate Proteins in sauce for 30+ minutes
Cooking
Add Sesame Oil to hot pan or skillet.

Cook Vegetables until par cooked and put aside

Add more Sesame Oil to pan, cook proteins with extra sauce

Add Vegetables back with 1-2 minutes left in cooking process.

Serve over rice.