18 September, 2018
Scallops, Asparagus, Pancetta and Risotto (with Asparagus and Pancetta)
Posted in :
Dinner
on
by :
Mike
Tags:
instant pot
,
pancetta
I got inspired this past weekend and wanted to combine a couple of different recipes that I had been looking at.  The idea of combining two different cooking techniques also was interesting.
The Scallops are prepared Sous-Vide which really helps create perfect scallops.  They are served with a pancetta based sauce and a side of roasted asparagus.   To finish the meal, I created a risotto of pancetta and asparagus using the Instant Pot which really makes creating solid risotto easy.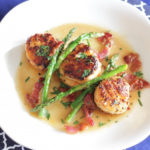 Twice-Cooked Scallops with Pancetta and Asparagus
This is a Sous-Vide recipe that yields amazing scallops. I often double the recipe for family of 4.
Taken from The Essential Sous-Vide Cookbook by Sara James
Ingredients
12

Sea Scallops

fresh or frozen

3

tbsp

Butter

12

Asparagus spears

3

tsp

olive oil

1/4

tsp

salt

1/4

tsp

pepper

2/3

diced

pancetta

3/4

cup

orange juice

2

tbsp

dry vermouth or dry white wine

2

tbsp

chopped chives (optional)

2

tbsp

ground Parmesan cheese
Instructions
Pre heat Sous-vide to 122F and preheat oven to 475

Bag Scallops into a single later

Cook for 20 minutes (30 if frozen)

While cooking, toss asparagus 1 tsp of olive oil,, salt and pepper. Bake in oven for 6 minutes and then put aside to keep warm.

In a large skillet cook pancetta until crisp, remove pancetta but leave the drippings in the pan.

Prepare a water/ice bath. When scallops are done, put them in the ice bath for 10 minutes. Save the juices from the bag.

Salt and pepper the cool scallops. Add some olive oil to drippings and reheat until just smoking. Sear Scallops 1 min each side

Keep skillet hot and drippings in pan. Add OJ, wind and bring to boil. Cook until it reduced to 1/2 a cup. 5-10 minutes. add 1 TBSP butter and Parmesan cheese

Serve sauce on the bottom, and scallops and asparagus topped with chives and pancetta.
Asparagus and Pancetta Rissoto (for Instant Pot)
This is combination of multiple recipes that I have used. It results in a creamy, risotto.
Ingredients
2

cloves

Garlic

chopped

4

tbsp

butter

1

tbsp

olive oil

12

stalks

Asparagus

chopped

2/3

cup

pancetta

cubed

1.5

cup

Arborio Rice

1

qt

chicken stock

1/2

cup

white wine

1/2

cup

grated Parmesan cheese

1

medium onion (sweet works well)

chopped

garnish (chives or lemon zest)

salt and pepper to taste
Instructions
Press Saute to preheat the Instant Pot. When the words "Hot" appear on the display, add butter and oil. Let butter melt

Then add garlic, onion, asparagus, and pancetta for about 2 minutes until onion starts to be come translucent.

Add Rice and stir to mix and cover the rice. Now add the wine and stir. Then add the stock. Stir again. Then set the IP for 9 minutes. Quick release when done.

Open Instant Pot. If there is remaining liquid, turn on Saute and leave the top off to evaporate some of the liquid. Add Parmesan cheese and stir. Salt and pepper to taste. Garnish with Chives and/or lemon zest