16 February, 2021
Keto Hamentashen – King Arthur Style
Comments : 4 Posted in :
Not Food
on
by :
mikefood
In an effort to not only stay on my keto diet but also keep up with jewish cooking, I wanted to create a keto friendly Hamentashen recipe. This is one of two potential options. This recipe depends on the King Arthur Keto friendly Whole Wheat flour and their Keto alternative sweetener which is Erythritol based. Add in some Smuckers No-Sugar jelly and I have a recipe that creates 12 Hamentashen with each only being 3NetCarbs and 97 calories.
I am going to build another version starting from more typical Keto coconut flour and almond flour sugar cookie dough as well, but this is a good place to start.
These came out excellent.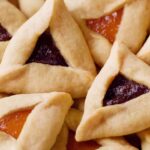 Keto Hamentashen
Using the King Arthur Keto Floud and Sugar, this is a take on the classic Hamentashen recipe.
Total Time
1
hour
38
minutes
Ingredients
1.5

Cups

King Arthur Keto Whole Wheat Flour

1/4

tsp

salt

7

Tbsp

unsalted butter

very soft

1/4

cup

Keto Sweetener

1-1 Sugar Replacement (I used King Arthur Sugar Replacement) – Erythritol is best

1

egg

1/2

tsp

vanilla extract

1/2

cup

Sugar Free Strawberry Preserves
Instructions
Sift flour and salt together in a small bowl

In another bowl, cut butter into small cubes (make sure its very soft), combine with sugar until creamy

Add Eggs and Vanilla to butter/sugar mixture and combine.

Mix in flour mixture, 1/3 of it at a time, and bring together a dough. This will take some hand kneading to get right. Once it comes together, wrap in plastic wrap and cool in the fridge for 45-60 min.

Remove from fridge and let stand for 5 min. Role to 1/8th of an inch and use a circle cut out to make 12 circles.

Place 1tsp of jelly in each circle

Fold up the sides and pinch closed to make the classic shape. Place on a greased cookie sheet.

Bake for 16-18 minutes until brown. Remove from oven and place on cooling rack (let cool and the jelly is really hot)
Recipe Notes
Nutrition Facts
Name:

Keto Hamentashen

Recipe makes 12-13 Servings – Serving Size:

1 Serving
Nutrient                Value
Calories                 97
Total Carbs          9.1g
Net Carbs             2.7g
Fiber                        3.2g
Sugar                       0.5g
Added Sugar       0.0g
Sugar Alcohols   3.2g
Protein                    7.3g
Fat                             5.8g
Monounsat. Fat 1.3g
Polyunsat. Fat     0.2g
Omega-3 Fat       0.0g
Omega-6 Fat       0.2g
Saturated Fat      3.0g
Cholesterol          26.6mg
4s COMMENTS