2 January, 2021
Keto Chicken Bok Choy Stir Fry
Comments : 1 Posted in :
Dinner
on
by :
Mike
Tags:
Keto
,
Stir-Fry
This was a really good stir fry that I put together. I picked up a couple of hints.
1) Using the egg yolks and coconut flour as a thickener. It was really a good sauce.
2) Marinating the Bok Choy ahead of time
3) Making sure to use seasoned/fragrant oils for cooking
Serve with Cauliflower Rice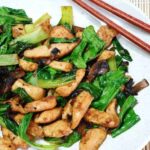 Chicken Bok Choy Low Carb Stir Fry
The sauce in this low carb chicken bok choy stir fry recipe has been thickened with egg yolks and coconut flour instead of the traditional corn starch.
Ingredients
2.5

lbs

boneless and skinless chicken breasts

3

egg yolks

2

tsp

coconut flour

3

tsp

tamari or soy sauce

1-2

bunches

bok choy (or baby bok choi)

2

tsp

minced garlic

2 extra needed for extra steps

2

tsp

minced ginger

1

bunch

Green Onions (Scallions)

2

TBSP

sesame oil or vegetable Oil

2 more needed for extra steps

salt and pepper
Instructions
If you have time for Prep (extra steps)
Put Bok Choy in a bag with Sesame Oil, minced ginger and salt

Marinate Bok Choy for 1-8 hours in bag
Main Instructions
Cut the chicken into thin slices.

Mix soy sauce, egg yolks and coconut flour. Coat chicken with egg yolk mixture and let sit.

Slice Green Onions, separate the greens and cut into bite size pieces, put aside. Chop the whites and hold separately.

Slice bok choy into small bite size pieces.

Heat sesame oil in large skillet or wok. Cook 1/2 of the garlic, ginger, green onion whites in oil until golden.

Add chicken to skillet and stir fry until no longer pink. Remove from heat.

Use remaining oil, garlic, ginger, green onion whites to heat pan again.

Put Bok Choy in pan and heat until it gets soft and fragrant. Add green onions (greens) and cook until soft.

Put the chicken back in quickly to heat back up.

Add additional soy sauce, salt and pepper to taste.
1 COMMENT