18 October, 2018
Jewish Corn Rye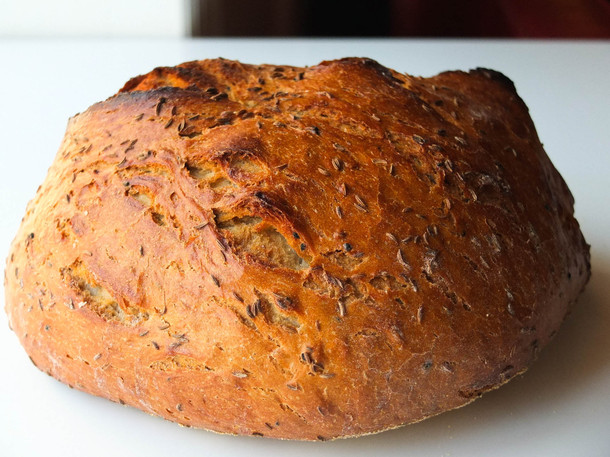 Comments : 58 Posted in :
Not Food
on
by :
mikefood
Tags:
Breads
I have been wanting to try making some breads and the desire to get some of the old Jewish recipes back struck.
This take some time.  You need 48 hours to get the starter going.
Then you have the typical dough, kneed, rise, kneed cycle so its a long time to put everything together.
Jewish Corn Rye Bread
Ingredients
Rye Starter - Makes 4 cups of starter
1

Tbsp

Dry Yeast

2

cups

water

warm

2

cups

Rye Flour

1

Onion

1

cup

water

warm

1.5

cup

Rye Flour
Corn Rye Bread
1.5

cup

water

warm

1

Tbsp

dry yeast

1/2

tsp

sugar

4

tsp

kosher salt

3

cup

Rye Sourdough Starter

2

cup

High Gluten Flour

3.5

cup

All-Purpose Flour

cornmeal

for dusting

1

egg

for glaze

2

T

water

for glaze

2

tsp

caraway seeds
Instructions
Rye Starter
48 hours before beginning rye bread, make this starter: Mix 1 T. dry yeast in 2 cups of tepid water.


Beat in 2 cups of rye flour. Add a small onion, peeled and halved. Cover the bowl with plastic wrap. Let stand at room temperature for 24 hours.

Remove onion. Beat in 1 cup tepid water and 1.5 cups rye flour. Cover and let stand for 24 hours longer.

This can be used immediately or refrigerated for 24 hours. This preparation makes about 4 cups of starter (a bit more than required for the bread).
Bread - The following directions are for hand kneading. If you have a heavy duty food processor, put all dough ingredients in work bowl after you have made the yeast starter. Add starter and combine. Dough will be fairly sticky. Don't use a food processor unless it is quite durable; this is a very heavy dough.
Combine 1/2 cup warm water, yeast, sugar, and let stand until double (10 min.).


Dissolve salt in remaining water. Mix in sourdough starter, then yeast mix.

Add gluten flour and 2 cups of all-purpose flour and optional caraway seeds; make a soft dough.

Spread 1.5 cups flour on kneading surface and turn dough out on it. Knead, adding more flour, to make a soft dough. Do not over-knead. The dough should be only slightly elastic, even a bit sticky. Form dough into a ball, and put in an un-greased bowl. Cover with plastic, and let rise until double (1.5 hours).

Knead, cover with towel, and let rest for 15 minutes. Divide into 2 parts. Form each into 12 inch loaf. Pinch seam, and place seam down on cornmeal-dusted sheet. Cover and let rise until 3/4 proof.

Put a large pan with 2 inches water in oven. Preheat to 400 °. Place quarry tiles on upper shelf of oven. Brush loaves with egg-white glaze, slash with knife. Sprinkle seeds on top. Bake for 30 minutes on tiles. Brush again with glaze; bake an additional 20 to 30 minutes.
58s COMMENTS