27 February, 2018
Instant Pot Homemade Riccotta Cheese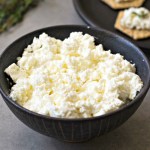 Posted in :
Ingrediant
on
by :
Mike
A new Instant Pot Recipie to make Riccotta cheese.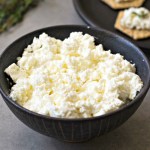 Instant Pot Homemade Riccotta Cheese
I have made this recipie that I picked up from https://realfoodrealdeals.com/instant-pot-ricotta/.
Ingredients
4

cups

whole milk

2

tbs

white vinegar
Instructions
Pour the milk into the Instant Pot, close the lid, and set the vent to Sealing.

Press the Yogurt button and press Adjust until you see Boil.

Let the pot run the boil cycle. When it beeps, it means the milk has reached 180 degrees. Release the pressure and remove the top.

Remove the inner pot to a trivet and pour the vinegar into the milk. Stir briefly. You'll see the ricotta separating from the liquid. Let the mixture sit for 10 minutes.

Transfer the ricotta mixture to a fine mesh strainer lined with butter muslin. Let the liquid drain for a couple minutes, and add a sprinkle of salt if desired. Transfer the mixture to an airtight container and refrigerate.